I have read more 2014 New Releases so far than I thought I would — 18, including Love Inspired books!  🙂  Seven of those 18 books ranked 5-stars for me (funny since 7 is kinda "my number", huh?)  Anyway, since I am terrible at writing reviews and really don't have a regular review post ready for this week, I thought I'd share my favorite 2014 New Releases.  Hope you find some that you'll really enjoy!  🙂
Since it would be nearly impossible for me to list these in order of favorites, I'll just list them in the order that I read them.
1.) 
  —  Life Support by Candace Clavert
I have read and loved every one of Candace Calvert's books.  She's a great author!  This is book #3 in the Grace Medical series — a very good series, by the way!  I can't wait to read her next book, which is expected to come out next spring.  🙂
Some good reviews of this book:
Susan's review  …..  Michelle's review  …..  Brittany's review   …..  Carissa's review
2.) 
  —  It Had to Be You by Susan May Warren
I have read 21 books by Susan May Warren (4 of which were co-written with Susan K. Downs) and I have given most of them 5-star ratings.  She is such a wonderful author!  This is book #2 in the Christiansen Family series, a series that has caught my attention and I don't think it's going to let go!  I really enjoyed the first book and this one is even better!  🙂
You can see my review post for this book HERE and for book #1 HERE.
3.) 
  —  Here to Stay by Melissa Tagg
This is book #2 in the Where Love Begins series.  I enjoyed Melissa Tagg's debut novel and book #1 in this series, Made to Last, much more than I expected.  And it got me so excited to read this book!  I was actually a little bit afraid that it wouldn't live up to my expectations, but it surpassed them!  It was so good and I am very much looking forward to her next book: From the Start, which is expected next April!  🙂
You can see my review post this book HERE and for book #1 HERE.
4.) 
  —  Circle of Spies by Roseanna M. White
What can I say about this book?  Circle of Spies is book #3 in The Culper Ring series, which has been so interesting to read!  I have always loved books set during and around the time of the American Civil War.  This book satisfied my love of the Civil War as well as my love of a good mystery book!  It was simply fascinating!  🙂
Some good reviews of this book:
Titanic Buff's review  …..  Rachelle's review  …..  Iola's review  …..  Dorcas's review
5.) 
  —  Silenced by Dani Pettrey
Oh my gosh, what a great book!  I absolutely love it when a book that I have really been looking forward to turns out to exceed all of my expectations. This was definitely the case with this one. It only took one book to get me hooked on the Alaskan Courage series. And by book #2, I was adding Dani Pettrey to my "Favorite Authors" list. The books just keep getting better! Which makes me wonder if it's possible that I might like the next one (Sabotaged — expected publication: February 2015) even more than this one.  😉
Some good reviews of this book:
Melanie's review  …..  Caitlyn's review  …..  Dawn's review  …..  Rachelle Rea's review
6.)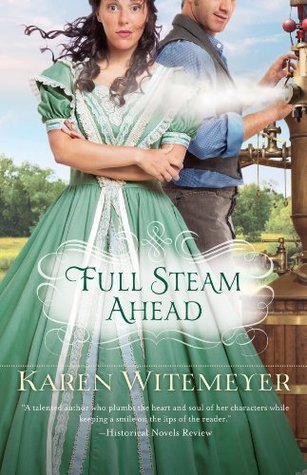 —  Full Steam Ahead by Karen Witemeyer
While I'm not crazy about the cover of this book, the content was great!  Karen Witemeyer has very quickly become one of my top 5 favorite authors.  I've read all of her books (6 novels & 1 novella) and have reached the place where I don't even bother to read the book blurb before deciding that I want to read her newest book.  I'm almost 100% sure that I will enjoy anything she writes.  This book was such a good fun read and I'm really looking forward to more of Karen's books!  🙂
Some good reviews of this book:
Bethany's review  …..  Margaret's review  …..  Kathy's review  …..  Jessica's review
7.)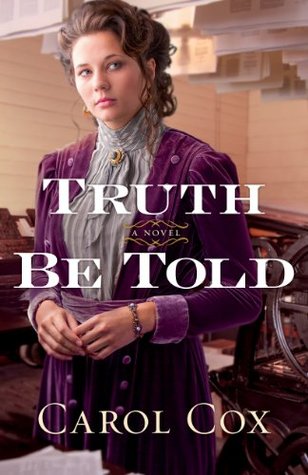 —  Truth Be Told by Carol Cox
Though I didn't enjoy this one quite as much as Love in Disguise… it was very enjoyable!  I've only read a few of Carol's books, but I've really enjoyed her writing style and I'm looking forward to more of her books.  🙂
Some good reviews of this book:
Alice's review  …..  Shalini's review  …..  Miamikel's review  …..  Susan's review
Well, that's it so far!  Note that this is not a list of all the books I have given 5 stars to this year, but only the 2014 New Releases.  I'm looking forward to reading more 2014 N.R. books this year.  In fact, I just got another one from my library: When I Fall in Love by Susan May Warren!!  Can't wait to dive into this one!  I'm thinking (and hoping) it's going to be 5-star worthy.  🙂
*                    *                    *                    *                    *                    *                    *
Click HERE to see more review posts on my blog!  🙂