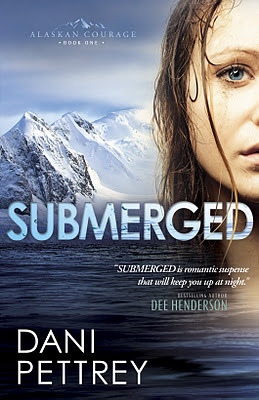 What a great way to discover a new author!  This is Dani Pettrey's debut novel and, in my opinion, she did an excellent job!  This was a fast read for me and kept my attention from start to finish. I thoroughly enjoyed it!
I just re-read this book this month and…  it's just as good the second time around!  🙂
*                    *                    *                    *                    *                    *                    *
A REVIEW BY DAWN
Bailey Craig returns to Yancey, Alaska to bury her aunt and put the estate in order. She's not returned since she left ten years before. In a small town like Yancey, her past has branded her and she can't escape it. Cole McKenna runs a successful adventure business with his siblings. He's also part of a Search and Rescue team that assists the local law enforcement. Bailey's aunt was in the plane crash that he helped with the recovery of. Now there are two dead divers which link back to Bailey's aunt. Things don't make sense. As Bailey and Cole dig deeper into the mystery surrounding the crash and the dead divers, more and more pieces of the puzzle fall into place. But the closer they get to the truth, the more danger they're in. Now there's a rising body count and a mystery that needs to be solved. In the midst of it all, will Bailey's past ruin her chance at happiness with Cole or will she be the next victim?
Debut novelist Dani Pettrey writes a book full of intrigue, adventure, and romance. I was kept on the edge of my seat through most of the book. I really enjoyed reading this. In some ways, this reminded me of Terri Blackstock, Dee Henderson, Brandilynn Collins, and Irene Hannon. I loved Cole's sense of being a protector to both his family and to Bailey. I also loved the way that his family took Bailey in and loved her and accepted her despite all of the smudges of her past. Bailey struggled with the belief that a holy, perfect God could really love her. Sure she'd accepted it, but she still struggled with it. Through Cole and his family, she learns about grace. I am eagerly awaiting the next book in this series.
I received this book for free from the publisher, Bethany House, for the purpose of reviewing. My thoughts and opinions are my own.
I recommend this to fans of Irene Hannon, Terri Blackstock, Dee Henderson, and Brandilynn Collins. Also recommended to those who love romantic suspense.
*                    *                    *                    *                    *                    *                    *
WHAT SOME OF MY OTHER FRIENDS ARE SAYING ABOUT THIS BOOK
I don't usually read contemporary romantic suspense, but I decided to give Submerged a try, and boy am I glad I did. From the very beginning the setting breathed life, and I could have sworn the author herself was an experienced rescue diver because the dive scenes were so authentic.
~Karen Witemeyer
…beginning to end, this novel has to be on the easiest, smoothest romantic suspense I believe I have read. Perfect balance in story and tension, romance and suspense. Character portrayals are deep and rise to the challenge of entertaining me as a reader, but also leaving me fulfilled in their journey.
~Casey
I enjoyed a lot of things about this story, mainly because of the tension and suspenseful elements combined with history and culture….  A great story with spiritual depth, awe-inspiring suspense, and emotion that kept me hooked to the end…
~Michelle
This debut book from new-to-me author Dani Pettrey is full of suspense, surprises, romance and faith. This book pulled me in from page one and kept me reading until after midnight to find out how it ended.
~Loraine
Submerged is Dani Pettrey's debut novel, but I would have never guess that from the writing! The characters, story… everything was so well written and entertaining that I enjoyed Submerged right from the beginning!
~Melanie
*                    *                    *                    *                    *                    *                    *
Check out the rest of the Alaskan Courage series…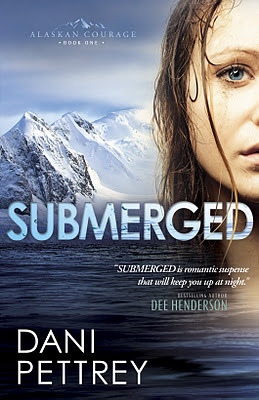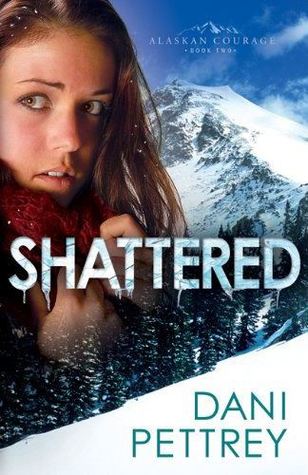 I would like to get review posts up for the rest of these books… we'll see.  😉
Click HERE to see more review posts on my blog!  🙂