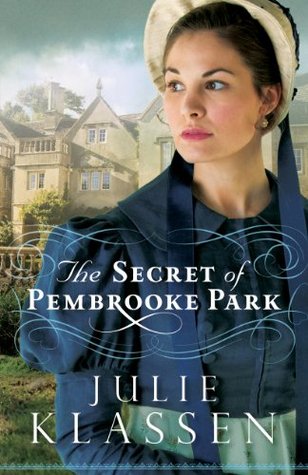 ~ MY REVIEW ~
460 pages? It's hard to believe that this book is really that long because I flew through it!
My love of Jane Austen and Jane Eyre made Julie Klassen a quick favorite of mine and I have thoroughly enjoyed all of her books (except for The Dancing Master, the only one of hers that I haven't read). This book, I understand, is her longest to date; and it is definitely one of her best!
I love how this author can take history, mystery, suspense, and romance… mix them together… and come out with a spectacular story such as this one!
I loved the characters! I thought they were very well written. Several of the characters frustrated me; and I pitied some and wished things had worked out better for them, but I can't say I truly disliked any of them — other than Clive, of course (who could like him?!).
As for the mysteries, I did figure out some things before they were actually revealed, but that didn't take away from my enjoyment. Besides, can you ever be totally sure you know the truth before you read the last page? 😉
All in all, this book is amazing and I highly recommend it!!
*                    *                    *                    *                    *                    *                    *
SOME FAVORITE QUOTES
Is she good company, able to laugh at herself, or a witty conversationalist?  Has she any intelligence in her pretty head?
*    *    *
Yes, definitely.  All of the above.  And she has read Pride and Prejudice three times, Sense and Sensibility twice, and Mansfield Park only once.
*    *    *
That is in her favor, indeed.  I can tell you are an excellent judge of character, Miss Foster.
*    *    *
Just… be careful, Louisa.  Men aren't playthings, you know.


How pleasant to escape for an hour or two into the company of a treasured friend.
*                    *                    *                    *                    *                    *                    *
WHAT SOME OF MY FRIENDS ARE SAYING ABOUT THIS BOOK
Marvelous, Exquisite, and Captivating! I absolutely loved this book!
~Nicole
One of my favorite Klassen novels for sure!
~Beth
Phenomenal! The latest novel by Julie Klassen is not one to miss!! This lengthy release … is well worth the time and truly I savored the entire story.
~Staci
Click here to read Savanna's review on her blog: The Engrafted Word
Click here to read Stacey's review on her blog: Suburban Thoughts
Click here to read Carole's review on her blog: The power of words
*                    *                    *                    *                    *                    *                    *
Check out some of Julie Klassen's other books that I recommend!
Click HERE to see more review posts on my blog!  🙂