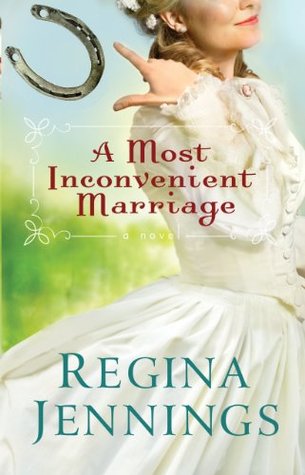 This is a super great book!  I didn't write a review for it, but you can scroll down to see what some of my friends are saying about it.  I totally agree with them!  🙂
*                    *                    *                    *                    *                    *                    *
SOME FAVORITE QUOTES
Did his farm somehow attract unreasonable females,
or did they become that way after they arrived?
"You are not here, Jeremiah Calhoun.  You are dead.
Dead, and don't try to prove otherwise."
~Laurel~
"He does have high expectations."
~Abigail~
"What about my expectations?  He's supposed to be dead."
~Laurel~
"I told him the same thing."
~Abigail~
"Jeremiah deserves a chance, but he needs to understand that
getting yourself declared deceased does come with consequences."
~Laurel~
"If a man did love me, I wouldn't make him dance around like a fool
while I carried on with another fellow."
~Abigail~
His ornery grin made her itch to smack him — whether with her fist
or her lips was still to be determined.
"Be careful, Jeremiah.  I know you'll be brave.  I know you'll be strong.
But be careful and come home to me."
~Abigail~
She snuggled into her husband's arms.  They'd get to the supper table
sooner if he'd let her walk, but he enjoyed showing his strength,
and she enjoyed his being strong.
*                    *                    *                    *                    *                    *                    *
WHAT SOME OF MY FRIENDS ARE SAYING ABOUT THIS BOOK
I was not disappointed with this book! It has been a while since I read a book with a main female character that I really liked and could really relate to, but Abigail was absolutely that heroine!
~Caitlyn
Filled with humor, action and drama this is a story you won't want to miss. Between Abigail's crazy antics and Jeremiah's frustrations this book kept me entertained for a few hours and had me laughing out loud. It's a perfect blend of history and craziness, which I love.
~Titanic Buff
Regina Jennings' books never disappoint, but this one just blew me away! Unique as always; intriguing as ever; but it was also beyond riveting, thereby making it impossible to put down. So my advice is not to plan on doing much once you begin reading!
~Noela
I didn't know it was possible to swoon while convulsing with laughter until I read A Most Inconvenient Marriage! What an incredible mix of gripping emotion and light-hearted humour. I was in a tizzy of ecstasy the whole read!
~Kav
This book was an absolute delight to read! So entertaining, from beginning to end.
~Anna