~ MY REVIEW ~

What a great finale to this series! I have thoroughly enjoyed myself and regret putting off reading these books for so long. They are definitely not a waste of time. World War II is one of my favorite times to read about and this series "put a new spin on it" for me. I loved the characters– thought they were well written. I was drawn into the story quite quickly and, whenever I finished one book, I couldn't wait to get my hands on the next one.
With this book in particular, I really liked seeing the transformation of Kay & Roger's characters. Sure, Roger is already a Christian, but he is still struggling with some difficult stuff in his life. And Kay… well, she had a hard life growing up (and that's an understatement!) and it took someone who understood to get through to her about God.
The friendship among the Nightingales is so special! How could a person not enjoy it? I really wish there had been more about Alice & Vera toward the end– perhaps seen hope of a change in their lives… I also really liked Mike. My biggest question at the end of this series was, "What happened to Mike?!" These things had me wishing there was another book in this series. Alas, there is not. 😦
One last thing I must say before I go: There are topics of a sexual nature mentioned a few different times throughout the book, including a rape attempt, so I definitely recommend this book for more mature readers.
*                    *                    *                    *                    *                    *                    *
~ WHAT SOME OF MY FRIENDS ARE SAYING ABOUT THIS BOOK ~
In Perfect Time is filled with surprises and twits. It will take you on an unforgettable journey through love, danger, and transformation in ways you could never predict. I thoroughly enjoyed this last book and thought it capped off the series extremely well.  Read more…
~Emilie
Balance is the key in my opinion. Sarah exhibits a tremendous ability to balance the details of history, the story line, and the characters in her books. The reason her books stand so well is that the author's theology of the God of the Bible is so naturally woven into the very fabric of her story and characters, not artificially inserted, that it holds everything together.  Read more…
~Joyce
*                    *                    *                    *                    *                    *                    *
~ SOME FAVORITE QUOTES ~
Roger shone a flashlight at his Form F, every box filled in with military precision.  He wanted to scribble on it, just to mar the perfection.
"His mercy is a gift.  Not something you earn, not something you deserve.  But like any gift, it isn't yours until you take it."
"He gives us good things not because we're good, but because he's good."
*                    *                    *                    *                    *                    *                    *
Check out the entire Wings of the Nightingale series…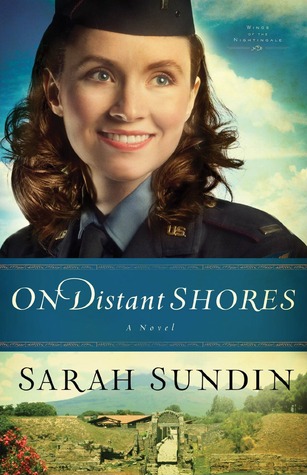 Click HERE to see more review posts on my blog!  🙂