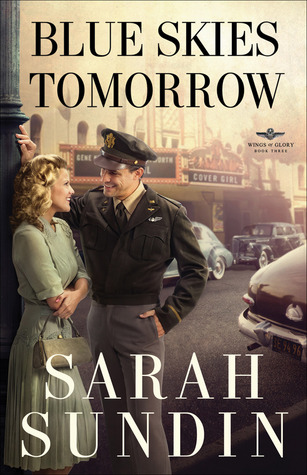 ---
~ MY REVIEW ~
Not my favorite couple or book of the series, but I still really loved this book! Helen and Ray are great characters, and I thought they were very well written. I loved seeing their characters change and develop throughout the story.
This book is another example of the wonderful way Sarah Sundin has of balancing history and romance. I love that I can thoroughly enjoy both when I read her books!
I wish that I had time to write a proper review for this book– I feel that I haven't anywhere near done it justice. Really, let me just say that I highly recommend this book, as well as any of the others I've read by this author because they have all been wonderful! 🙂
---
~ WHAT SOME OF MY FRIENDS ARE SAYING ABOUT THIS BOOK ~
There is a delicate balance between too much history and ignoring the love story. Or an overwhelming love story angle with the war as only a distant background. There is a near perfect balance in "Blue Skies Tomorrow".  Read more…
~Casey
The issues Sarah Sundin dealt with and embedded in Blue Skies Tomorrow made it impossible for the reader to detach themselves from the real-life feelings of the main characters. I loved the way the entire book had me holding collective breaths, surprising me with the plot countless times, and loved the way I could connect with the characters as they faced the challenges set before them.  Read more…
~Irene
Blue Skies Tomorrow deals with some very difficult issues and I think that Saran Sundin did a great job of writing about them….
I highly recommend this book, but strongly suggest that you read this series in order so that some of the key details aren't revealed to you beforehand.  Read more…
~Megan
---
~ SOME FAVORITE QUOTES ~
"Lord, help me see the good in this."  He needed to find the lining to this cloud, but right now it looked more gray than silver.
*       *       *
Ray – "That's not right.  Children should be punished for disobedience, not imperfection.  What does that teach a child?  The only way to salvation, to approval, is to be good enough, do the right things?"
*       *       *
"He's so cute.  I can't wait to be a mother."
"Wait.  Wait until you find a good man."
*       *       *
Fear didn't make a man a coward, but rather the inability to act due to fear.
*       *       *
"Lord, help me.  I can't bear it."
A Whisper.  The softest whisper in her ear.  He knew.  Jesus knew what she had endured.  He'd endured it too.  He was beaten and scarred.  He understood.
For the first time, she yielded to his comfort.  Jesus didn't take away her tears, he received them.  He didn't take away the memories, he shared them.  He didn't take away the hurts, he felt them.  Somehow, with the Lord, she could bear it.
*       *       *
Ray – "You're doing God's will for your life, so is Walt, and so am I.  If Dad has a problem with our career choices, he can take it up with the Almighty."
Jack – "You tell him that.  I'd rather face a squadron of those new little German fighters."
*       *       *
The Lord is your best, wisest, and most loving confidant, and he already knows every detail.
*       *       *
The biggest problem with an unbelievable story was when you needed someone to believe it.
---
And click the links below to see my review posts for:
---
Click HERE to see more review posts on my blog!  🙂