---
~ MY REVIEW ~
I've said it before and I'll say it again: I truly love it when an author can make me genuinely like a character that I previously could barely tolerate.
From the beginning of this series, I didn't like Georgina. I loved Colin from the moment I met him, but Georgina..? She annoyed and aggravated me, and I knew that if I met a girl like her in "real life" I most likely wouldn't choose her as a friend or even want to be around her at all. But all the while, I also felt that there was more to her than what the readers had, so far, been allowed to see. And I knew that the author was going to do her best to make me like this character in a later book. The question was: will she actually succeed in making me like Georgina? The answer is: Yes. It did take a little while… but yes, I do like her very much now.
The beginning of this book overlaps the previous book, A Noble Masquerade. I can understand how some readers might not like that, but I really enjoyed seeing some of the situations from the perspectives of other characters. I especially enjoyed reading some of the scenes (the Ryland/Colin scenes in particular) from Colin's pov. Talk about getting a good laugh out of a book! 😀 Also, if it had been a while since I'd read the first book and maybe I didn't remember it super clearly (this wasn't the case for me, but if it had been… ;P ), this would have provided a nice refresher of previous events.
May I just say (again) that I really loved Colin? I mean, how could you not like this guy?? I like the way he very slowly wades into discovering who Georgina is beneath the façade. He thinks he know everything there is to know about her. He thinks he knows exactly who and what she is. But he's wrong. (No big spoiler there, right?) He doesn't want to be around her, he doesn't want to get to know her any better, and he certainly doesn't want to like her! But he gets dragged into it… 😉 And I just have to say that I thought fairly early on that Trent was rooting for Colin all along, hoping that something would develop between him and Georgina. That thought had me chuckling quite a bit. 😉 One thing I truly loved about Colin was how he was constantly encouraging Georgina to tell the truth and trust her family. He accepted her so called "flaws" and that was such a huge thing for her: she needed to know that people could accept her as she was.
Georgina….. What can I say about this girl without giving anything away? Her secret is one that… Well, I'd never really considered how such a thing would have affected a lady in her position. It would have been a very difficult thing for anyone, but so much more for her– or for anyone in "high society", really. After a while, I could see why she had become the way she was and why she had built such a high, defensive wall around herself. Seeing those walls come down and not only seeing her true self revealed, but seeing her true self change as well– that's what made me like her. Oh, and her relationship with Harriette… There is really too much to say about that and I don't want to reveal any spoilers, but that was one of my favorite things about this book.
Well, I've not said everything I wanted to, but this review is getting quite long already so I'll try to wrap it up right quick.
I love Kristi Ann Hunter's writing style. She pulls me into her stories and I find myself wanting to just sit and read until I reach the end– and then pick up the next book and read some more! I can't wait to read more in this series! And I'll definitely be keeping my eye out for more books from this author.
I received a free copy of this book through the Bethany House Blogger Review Program in exchange for an honest review. All opinions expressed are my own.

---
~ WHAT SOME OF MY FRIENDS ARE SAYING ABOUT THIS BOOK ~
Her characters are intelligent and witty and charming and engaging, her heroes are also intelligent and more than sufficiently swoon-worthy (a word you can really only use in relation to historical romance set in England), her settings are excellent, her writing outstanding, and her Christian themes strong without being overbearing. In other words, close to perfect.  Read more…  (One of my favorite reviews of this book.)
~Iola
Sometimes when an author takes a chance, it can pay off in a big way. In this case, Kristi made several bold decisions in her writing, and they all paid off for this reader!  Read more…
~Beth
The last quarter of the book made my spirit soar and my heart sing. Is it any wonder that I became a Georgina fan by the end?  Read more…
~Kav
After adoring this author's debut novel I couldn't wait to get my hands on this book and thankfully I loved this one too!  Read more…
~Abbi
---
~ SOME FAVORITE QUOTES ~
Colin– "Please don't shoot me, Jeffreys.  I'm quite fond of this coat."
Something was disturbing the normally unflappable duke, and being the good friend that he was, Colin couldn't wait to hold it over the other man's head.
Honestly, of all the unnecessary things her mother had taught her in the last eighteen years, she couldn't have found two minutes to say, "A lady always brings something to occupy herself while she waits"?
He would likely either leave engaged or unconscious, depending on how things went with Lady Miranda and her brothers.  Women weren't usually forgiving when they learned they'd been fooled, and men were rarely restrained when a sister felt her honor had been slighted.
Griffith– "What do you know, Mr. McCrae?"
Colin– "More than I should but not enough to say more than I have, Your Grace."
Colin's Mom– "Trust God to give you what you need when you need it.  If you get it too early, you might misplace it."
Why did she have to spend the evening dealing with two Colin McCraes?  That was insupportable.
It was a shame, really, that one couldn't go to the store and buy a play to watch at home like one could purchase a book.
If he didn't know better, he would be convinced that there were actually two women of like name and appearance, switching places at will for the express purpose of driving him mad.
Colin tried to remember if he'd prayed for the Lord to teach him patience recently because he could think of no other reason why God would constantly be throwing Lady Georgina into his path.
Perhaps that's what he needed in this situation.  A new perspective, particularly on from God.  Yes, some time alone with God was exactly what this situation needed.
---
Check out the entire Hawthorne House series!
And join me in waiting for book #3!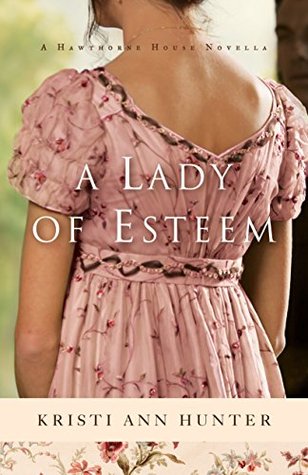 ---
Click HERE to see more review posts on my blog!  🙂