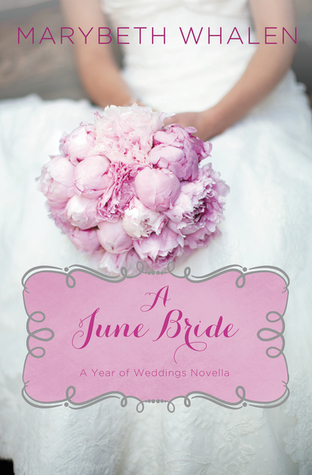 #7– A June Bride by Marybeth Whalen
Finished this within a couple of hours. I can describe it in three words: not so great. It was okay, I guess, but the "hero" of the story barely even made an appearance & the relationship was based solely on backstory between the couple so I didn't get to see their relationship develop at all. And the ending was very abrupt too.
Kinda disappointing…  2 Stars
---
  #8– A July Bride by Beth Wiseman
I did not enjoy this book at all. More than anything else, it just irritated me. I finished it for two reasons: 1) It's part of the series and I was determined to read every book so that I could count it toward my "finish the series" challenge– yeah, the one that I've already finished… but I'm just stubborn like that sometimes. 😛 2) I thought it might get better the more I read. Yeah… no.
I have to ask: was the author trying to get the readers to like Dalton or what? Because I felt like she kinda wanted us to like him– or at least, maybe be unsure whether we liked him or not. Maybe I'm wrong… that's just the feeling I got. But I couldn't stand the guy! And… Oh gosh… I just want to go into a total rant about Alyssa's brother! If I found out that one of my brothers kept something like that from me… they might never be seen or heard from again. Okay, I'm kidding– but you get the idea. 😛
Well, I suppose one good thing came out of reading this book: I appreciate my brothers more because I know they wouldn't keep something so important to themselves. I doubt any of them will ever read this, but… Thanks Guys– I love y'all!!! ;D  1 Star.
---
  #9– An August Bride by Debra Clopton
I was so happy with this book– especially after the last 3 in this series being 1- or 2-star reads. The "posse" was quite funny and entertaining and I loved them! I really liked Kelsey and Brent too and enjoyed seeing their relationship develop.
Overall, a fun read! 🙂  4 Stars.