~ MY REVIEW ~
I can't decide if I really liked this book or not. I didn't love it, but it was good. The writing style really drew me in and kept my attention. And World War II is one of my favorite times to read about– it's so fascinating! Yet the story lacked… something. I loved the characters! While they could be annoying and frustrating (quite a bit, actually), I think I can kinda understand why people in their situations would be the way they were– people's life history shapes them in ways we can't all comprehend, after all.
The plot was intriguing, yet I struggled with believing some of it. (Did anyone else have a hard time believing that Tom's dad would have gained the horrible reputation that he had — one that lasted so long as to affect Tom in such a way — from the crime he committed? I mean, it's not like he went on a killing spree or was a serial killer or something. Just saying.) And I wish Mellie hadn't figured out Tom's identity so quickly since he had to wait until the end of the book to find out who she was. His struggle with Annie vs. Mellie was starting to bug me a bit by the time it was all resolved, made worse by the fact that she seemed to expect him to fall in love with them both. Gah! But it all ended well and that's what matters, I guess.
Overall, this was a very interesting story– one I wish I hadn't put off reading for so long– and I have to give it four stars because even through the frustrating & slightly unbelievable parts… this author still kept me reading without wanting to put the book down. I've already gotten the second book from my library and plan to start it right away. These characters just made me love them and want to "get to know them better". I can't wait to dive into Georgie's story and also see how Rose's is going!
*                    *                    *                    *                    *                    *                    *
~ WHAT SOME OF MY FRIENDS ARE SAYING ABOUT THIS BOOK ~
This book was amazing. The historical setting was interesting. The romance was heart-melting. The Christian elements uplifting. The epistolary exchanges were just…wonderful. Everything blended together so well in this book, and it was so compelling that I had the hardest time putting it down.  Read more…
~Anne

Touching, inspiring and extremely engaging, "With Every Letter" is a story not to be missed. I recommend it to those of you who love great novels about true love, friendship and solidarity in difficult times.  Read more…
~Maria
This was my first read by Sarah Sundin, but it definitely won't be my last. With great attention to historical detail, this book pulls the reader into the story from start to finish. The theme of restoration and forgiveness was interwoven throughout the storyline as well as with many characters.  Read more…
~Loraine
*                    *                    *                    *                    *                    *                    *
~ SOME FAVORITE QUOTES ~
"Good day, my Rose.  We'll meet again."
~Clint~
"Not if I see you first."
~Rose~
She told of an unnamed officer who serenaded her friend in a cracking voice.  He sang "These Foolish Things Remind Me of You" with his own lyrics.  Annie's friend had to be a spitfire, because the foolish things included his black eye, the glove she smacked him with, and a bottle of iodine.
Sergeant Early said she's the only nurse he'll fly with, and underneath that, a nurse wrote, "Please keep Mellie so we don't have to fly with him."  Several women seconded that comment.
"They deserve our prayers, not our gossip."
*                    *                    *                    *                    *                    *                    *
Check out the entire Wings of the Nightingale series…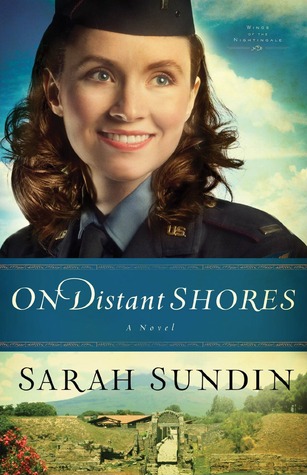 Click HERE to see more review posts on my blog!  🙂